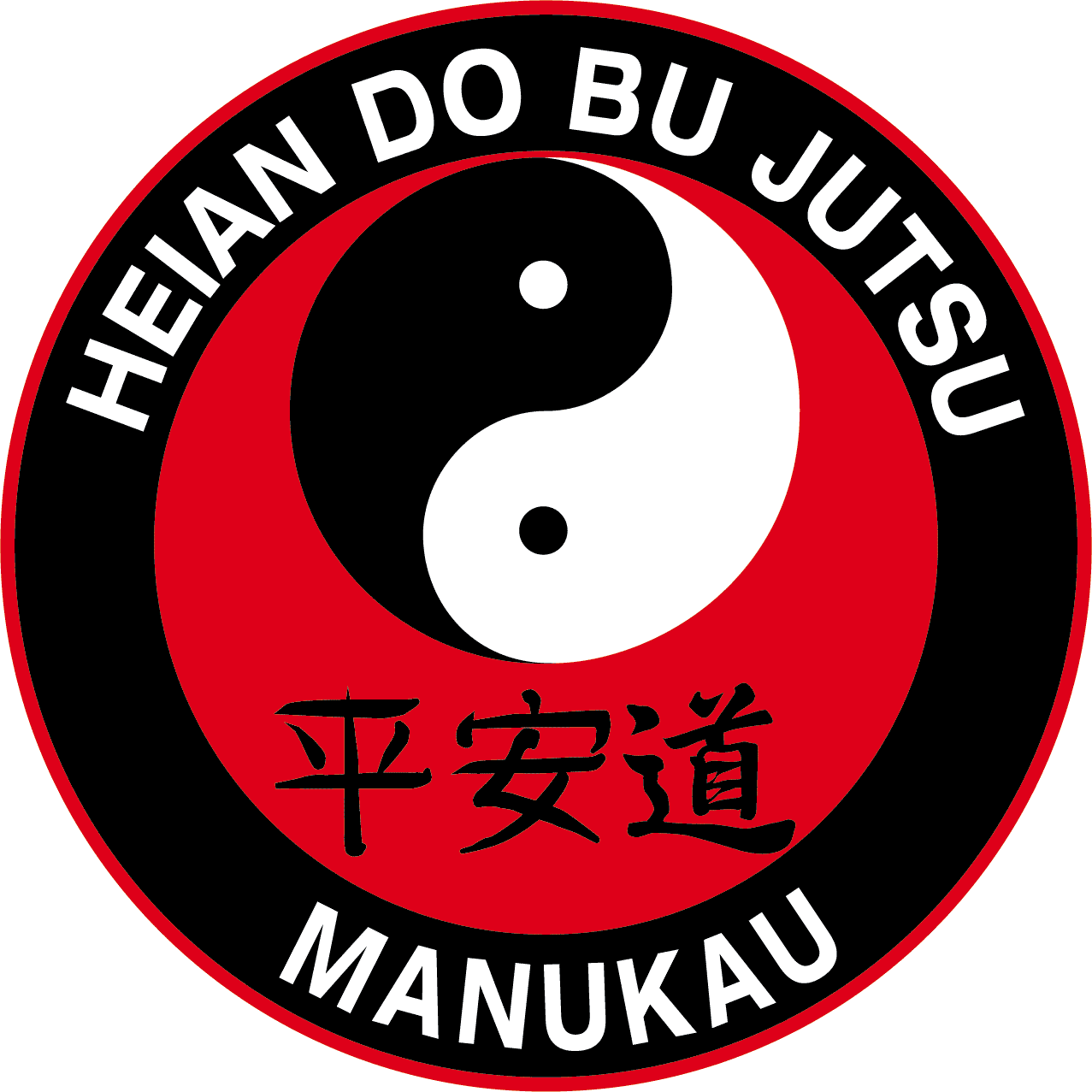 Crashpad and tackle dummy
combined dojo class and instructors
Heian in Japanese means peaceful or tranquil and we adopt this attitude towards our training. By harmonising with our opponent in terms of their distance and attack we can use their own energy against them. We can overcome attacks by using a set of core truths found in all styles of martial arts. By learning and adhering to this core structure of rules we find that size, weight, height and ability can be combated in various ways with the least amount of energy needed.

Our adult classes cover a formula of techniques and theories from separate martial arts styles that eventually blend together to form stepping stones of understanding and advancement in our core style - bujutsu. These levels are taught and examined by our sensei and associated clubs. We pride ourselves on being a non-political dōjō and we share our theories and practice with other esteemed clubs such as the Institute of Aikido in Silverdale, Aikiway Aikido in Pt. Chev Auckland and Laingholm Jitsu whose top ranking sensei are held in the highest regard by our association.
The main driving force behind our Heian school for our juniors is to provide a focus on the younger generation who have become entrenched in the Silicone Age of computers and technology, to revisit the art of learning communication skills through both vocal, mental and physical interaction. We strive to reinvent these skills back to the children and adults alike in a safe fun filled environment. All our students will learn to interact with men and woman, boys and girls of all ages. We teach you to be independent, respectful but never fearful of any other person. We teach you to have faith in your learning, have faith in your abilities and you will show a more confident attitude as you progress.
The worst thing we can do to our children is ignore their basic need to learn and grow as young people. At the Heian Dōjō we help to give them the basic building blocks needed to survive in an ever changing society that becomes more complex and challenging with each passing year.
We help them to help themselves and others by being more positive, more outgoing and become young leaders for the future.
Mark A. Grogan
Sandan Ai Shin Do Bujutsu 2015
Sensei Heian Do Bujutsu 2010
Senpai Heian Do Bujutsu 2006
Ikkyu Chidokan Karate Do 1986
Ratified 2016
Nikyu Jo Jutsu - ASDANZ 2018
First Aid Cert 2001
Lifetime Member & Instructor - Academy of Self Defence NZ
Sensei M. Grogan joined Chidokan Karate Do in 1980 and reached brown belt in 1986. Stepping away to persue his business and football career he joined with Ronin Martial Arts many years later. In 2009 he opened a home dōjō in Manukau City East and Heian (Hey-an) Do Bujutsu Ryu (formerly known as Ai Shin Do Bu Jutsu Ryu) was officially born August 1st 2009. This privately owned club affiliated with Ronin Martial Arts International and ASD Martial Arts NZ. Sensei Mark Grogan is a student and instructor at RMA under Kancho Chris Nicholson (Budo Bujutsu Ryu Aust) and Kancho Dwane Morgan ASD Martial Arts NZ. In 2021 he officially started Manukau Martial Arts Association.
Lyndon Moore
Shodan Heian Do Bujutsu 2021
Senpai Heian Do Bujutsu 2020
Sensei Heian Do Bujutsu 2021
First Aid Cert 2001
Lyndon joined Heian Do Bujutsu in October 2014. His son and daughter were also students for a number of years. Progressing for many years including cross-training at the ASDANZ Lyndon was awarded Senpai status when he reached his provisional black belt in 2020. On completing over 600 hours he was graded to 1st degree black belt under the Academy of Self Defence NZ / Heian Do Bujutsu Ryu and a month later awarded his Sensei certificate.
Nicole Hill




Shodan Go Kan Ryu Karate 2010


Purple belt Te Jutsu 2020
Blue belt Aiki Jutsu 2020
Sensei Go Kan Ryu Karate 2010
First Aid Cert 2016
Nicole began her martial arts journey with Go Kan Ryu Karate. Intermittently training as a guest she left GKR and became a member of HDBJR in 2014 and began regular classes. Nicole currently holds kyu grades in Chinese Te Jutsu, Aiki Jutsu and Ju Jutsu as well as her 1st degree black belt in Japanese karate.